Spread The Cost – 0% Interest-Free Finance Now Available On Ghost Immobiliser Instalations
You have spent your hard-earned money on your vehicle but now want to make sure the security of your vehicle is not compromised due to the increased rise in keyless cloning and relay methods used by thieves. The Ghost Immobiliser eliminates this as an option, as without knowing the unique pin code and your personally designed dash or steering button sequence, thieves will be stuck with no way to move your vehicle.
To make our ghost immobilisers more accessible for all budgets and situations, Car Theft Solutions are proud to offer the option of 0% interest-free finance on our ghost immobiliser instalations.
How Our 0% Finance Payment Plan Works
With our 0% finance option, you do not have to pay for your ghost immobiliser in one go but can spread the total cost over 4 equal interest-free payments.  Just pay a 25% deposit at the time of your order and then pay the remainder over the following 3 months, giving you less to pay upfront at no extra cost.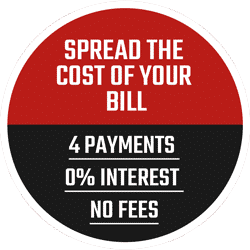 Example
Cost of Autowatch Ghost Immobiliser = £475.00
25% deposit: £112.50
Payment 1: £112.50
Payment 2: £112.50
Payment 3: £112.50
Our 0% finance plan is simple to set up with no lengthy forms or checks. All you need is a UK-registered debit card.
Avoid the stress and added expense if your car is stolen with our 0% finance plan across 4 easy payments in comparison to the additional costs you would incur if your car was stolen such as:
Car hire costs
Loss of insurance excess
Loss of no claims bonus
Personal inconvenience/work
Increased insurance premium
Our Ghost immobilisers are of the highest quality, manufactured in an ISO 9001/TS16949 accredited factory, and under warranty for 2 years.
Protect your car and get in touch with us today to book your ghost immobiliser instalation.
Contact us here or call 0333 370 3259