Ghost Immobiliser is now TASSA and Insurance Approved
0% Interest Free
Payment Instalments Available
We have a range of payment options available to suit you - get in touch today to discuss.
Next-Generation Engine Immobiliser
Protect your vehicle from key cloning, hacking and theft
Spread The Cost Of Your Bill
Pay a 25% deposit today and spread the remaining cost over three equal payments
Next-Generation Engine Immobilisers and Installation Partner
Protect your vehicle from key cloning, hacking and theft
Put simply: The Autowatch ghost immobiliser is a state of the art immobiliser that prevents your vehicle from been stolen.
The Ghost device is connected to your vehicle's CAN Data Network and you have to enter a personal PIN Code which is programmed into the system using any of the buttons on your dashboard or steering wheel.
This creates a unique button pattern that must be entered by you before your vehicle can even start, making it secure from theft.
Currently, the Autowatch ghost is at the forefront of vehicle security theft prevention. This unique system is helping people every day by protecting them from the car theft epidemic that is constantly rising.
As well as the Midlands, we install the Ghost all across the UK - Manchester, Leeds, London, Liverpool, Sheffield, Essex and more. 
Our Excellent Work
See what our customers are saying about our work.
The Autowatch Ghost Immobiliser
Learn more about this world revolutionary immobiliser.
Request a Quote
We'll detail all your options in a comprehensive estimate.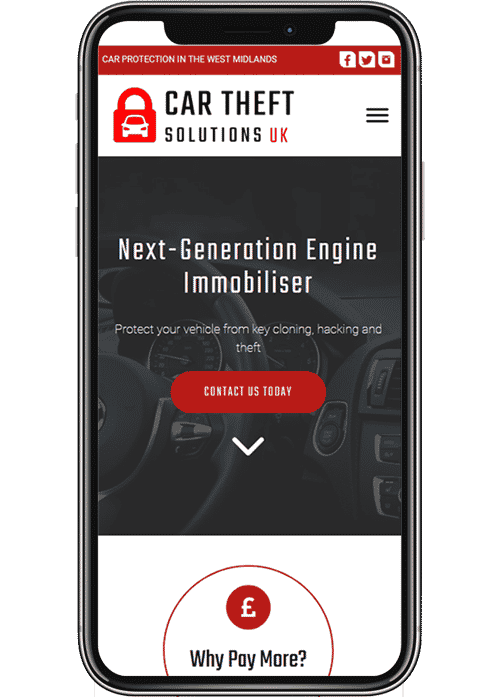 Ghost Car Immobiliser
The Ghost protects your car from key-cloning, hacking, and even key theft. The Ghost has no key-fobs or LED indications to give away its location.
The Ghost uses the buttons in your vehicle such as those on the steering wheel, door panels or centre console, to allow you to make a unique, changeable, disarm sequence (like a PIN code) that must first be entered before you can drive your car.
Just like your credit card but you can make your car disarm sequence even safer by making it up to 20 presses long!
In order to make extreme security also be hassle-free, we have created a smartphone application that connects to your car and allows you to get in and drive without having to enter the disarm sequence.
Our Ghost immobilisers are of the highest quality and are manufactured in a ISO 9001/TS16949 accredited factory and are under warranty for 2 years .
Hear From Our Current Clients!

We're here to help
For free, professional advice please call 0333 370 3259 or simply fill out the contact form below and we'll be right back in touch to discuss your enquiry.