Autowatch Ghost Immobiliser Fitting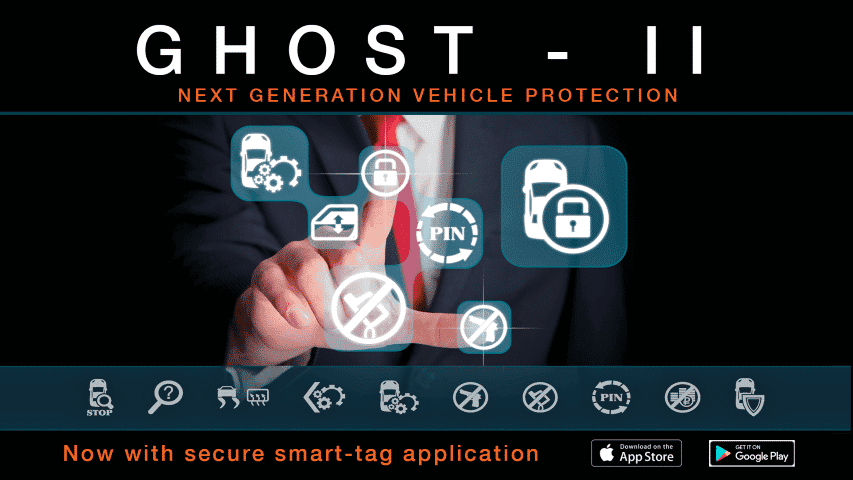 Autowatch Ghost Fitting with 0% Finance
Follow many responsible vehicle owners and invest in an Autowatch Ghost Immobiliser, the most effective vehicle theft prevention device.
Are you worried about your vehicle being stolen? Do you have a keyless entry vehicle? Did you know it can be taken without the keys in under 60 seconds?
Vehicle Security is a big problem, and the Autowatch Ghost is the market-leading and original aftermarket CANBus Immobiliser. It is designed to combat increasingly sophisticated methods used by thieves, including key cloning, and the car relay method.
Supplied, programmed and fitted from £499 with a 2 year device warranty.
Stop Relay Attacks with Autowatch Ghost
Having an Autowatch Ghost fitted is a unique way of securing your vehicle, undetectable to thieves. It requires the driver to enter a pin sequence between 4 and 20 characters in length, using any combination of buttons inside the car.
This can be anything from the electric windows, windscreen wipers and indicators, an unlimited number of codes. Only the driver will know this code, and without the sequence being entered correctly, the engine will not start. There is an accompanying Autowatch Ghost 2 mobile app, which can be used in place of the pin sequence if you choose.
Another benefit of installing a vehicle immobiliser is its reduction in car insurance premiums in most cases. Insurance companies will often offer a discounted rate, as it shows responsible ownership and has less likelihood of being stolen. Also, the Autowatch Ghost Immobiliser is now TASSA approved (Tracker and Aftermarket security systems association) as of March 2020. 
We're Local, Reputable and Recommended
Just one call to us and we'll make sure your car is safe and secure as quickly as possible
Autowatch Ghost 2 Immobiliser
Car Theft Solutions are a trade registered and approved fitter of Ghost Immobiliser, installing at just £499 with no hidden costs. We offer hassle-free installation in under two hours. Simply book online and we will arrange a convenient time and location to suit you. We are trusted with the most valuable cars on the market, see here.
We have installed on a range of vehicles Ford Fiestas through to Range Rovers, Lamborghinis, and Ferraris. Please check with us to see if your vehicle is compatible.
If you are looking to protect your high-value car from being stolen, speak to us the leading experts at Car Theft Solutions. You will have complete peace of mind that wherever your vehicle is left, it will not be vulnerable to thieves.
Please look at some of our 5-star Customer reviews to demonstrate the high level of service we provide. We also offer an added layer of vehicle security with our GPS car trackers, so you have full visibility of your vehicle's location, whether personal or commercial.
Hear From Our Current Clients!

Check Out Our NEW Invisible CAN Bus Immobiliser - The Scorpion X Immobiliser